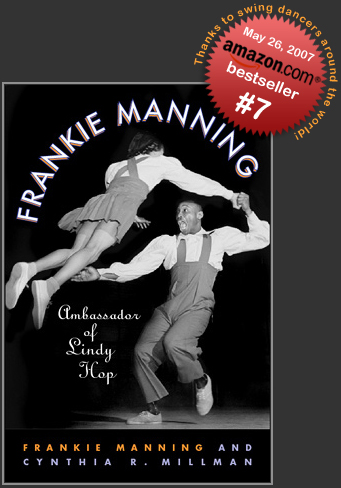 FRANKIE MANNING, AMBASSADOR OF LINDY HOP: 1914-2009
Legendary Lindy hopper Frankie Manning passed away on April 27, 2009, one month before his 95th birthday.
A party planned in honor of the occasion was recast as a celebration of his life. Manning's legacy is hugely important and widely influential. He touched the lives of so many, and will be remembered and revered for his vital role in the history and revival of swing dancing. Family, friends, and swing dancers around the world will miss his radiant and charismatic personality.
Frankie Manning's 95th Birthday Festival took place at New York City's Manhattan Center from May 21-25. The event, run by volunteers and attended by 2,000 swing dancers from 33 countries, included:
a memorial service followed by a second-line parade to Central Park
a public dance at the Naumburg Bandshell in Central Park
5 nights of dancing to 16 great bands
a full-length show based on Manning's life
workshops with top Lindy hop teachers
panel discussions led by experts on various aspects of swing dance
performances by some of the best swing dancers in the world
a tribute video compilation of clips of Manning
a free children's program on the history of the Lindy hop and Big Apple
Global Shim Sham for Frankie, a video compilation featuring nearly 5,000 dancers from 22 countries
a quilt made from Manning's t-shirts was auctioned to benefit the Frankie Manning Lindy Hop Legacy Fund (the auction raised $12,500)
To learn more about Frankie Manning and his contributions to the world of dance, we invite you to explore this website Frankie95.com, and Frankie's pages on SavoyStyle.com.
For links to many articles and clips, please visit Media Resources on Frankie95.com
More links of interest:

Frankie Manning: Never Stop Swinging
Click here to watch the program
Features Frankie Manning's last major interview, as well as precious archival footage of his dancing from the 1930s to 2009. Highlights include scenes of Manning's later birthday parties, where he danced with one woman for each year he'd been alive; the legendary dance scene from Hellzapoppin, and a phenomenal duet with his son, Chazz Young, himself a professional dancer.

Global Shim Sham for Frankie
Click here to watch the video
A beautifully edited film compilation of some of Manning's many admirers doing a line dance that he introduced to the swing community. Features nearly 5,000 dancers from 22 countries dancing to Jimmie Lunceford's "'Tain't What You Do."